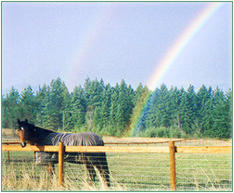 Nodaway Farm is located in sunny Sequim just an hour and a half from Seattle, on the Olympic Peninsula of Washington State.

At Nodaway Farm, we believe retired and laid-up horses deserve the best. Your equine friend has perhaps jumped hundreds of courses, performed scores of dressage tests, endured 100's of miles of endurance races, or shown for you their best in western pleasure.

Whatever their career, it's now time to rehabilitate, relax, play, just be a horse. Perhaps your horse wants a different paced career like teaching people with disabilities how to ride? You want the best care for your retiring or laid-up friend. You want your horse to have the same quality of care you have always given him as a performance horse... but perhaps you don't have the farm, or the time, or your limited time must focus on your new younger horse...we understand.

Nodaway Farm is dedicated to providing quality care for your retirement or layup horse. Our standards are high. Our boarding population is limited. Your horse will be treated as part of the family, not just a part of the barn.


---
"I enthusiastically recommend Denison Rauw's special talents and superb facility for your horse's injury or illness recovery needs. I've come to know Deni to be a compassionate and conscientious caregiver to her own assortment of animal family members. She combines experience, skill, logic and caution to provide simply top-notch care. Her facility is clean, well-lit, well ventilated and gives an overall feeling of welcome and comfort to all who enter - man or beast. I look forward to helping Deni make sure your horse achieves his best and fullest possible recovery."

Mary DeLorey, DVM
Northwest Equine Dentistry
---
Home - Retirement & Layup Care - Facilities - About the Owners - Photo Gallery
Therapeutic Riding Program - Vacation Boarding - Rates - Contact & Directions